Ever wondered where countries and cities actually are in the world?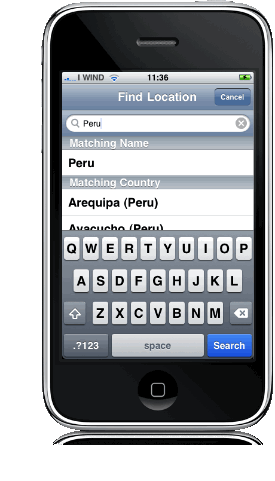 Heard of places in the news, and can't visualize how far away they are?
Going on holiday and don't know how close to the equator you will be?
WonderWorld shows you the whole world on your iPhone, letting you quickly search for any location to pinpoint where it is in relation to you. With its built-in database of all countries and main cities you can quickly match places, or turn your phone to see a view from a Alaska to Australia
But it doesn't stop there! Further your knowledge of world events by viewing major news items as push-pins on the globe, exactly where they are happening.
If you're on-line, clicking an item will show further location details about population, language, government etc. Using the pinch gesture on the map also lets you zoom in, and pan around to see more detail. Feeling lucky? Shake your phone to see a random location, can you guess where it is?
News items show you the headline for each location, and you can drill down and read the entire article now that you have a better understanding of where the event is happening.
It's Educational, it's practical and genuinely useful. Never have a blank look about current events or geography again.
While there are other world map applications on the App Store - WonderWorld isn't just clipped pictures, it uniquely shows you a global view of all locations and then lets you zoom in to see more.


Note: News, zoom and article functionality require an internet connection, however searching in the global view is supported while off-line. This ensures a healthy balance of the most up to date information, while allowing offline usage.
We appreciate your feedback and are applying your ideas into future versions.
An FAQ and usage video are in the works, stay tuned.